Office Address

Non Resident
Mailing Address

John F. Kennedy School of Government
79 JFK Street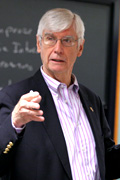 Profile
John W. Thomas is Lecturer in Public Policy, Faculty Chair of the Lee Kuan Yew Fellows Program, and co-chair of the Leaders in Development Program at Harvard Universitys Kennedy School of Government. His research and teaching focuses on managing change in developing countries. With Merilee Grindle he co-authored the award-winning book Public Choices and Policy Change. He helped Singapore establish the Lee Kuan Yew School of Public Policy, and is part of the team supporting it. He counseled Asian, African, and Latin American universities on the development of public policy programs. As advisor to the governments of Kenya, the Philippines, and Bangladesh, he worked on land reform, poverty alleviation, organizational capacity, and policy change strategies. He was honored by the Prime Minister of Bangladesh for contributions to the countrys independence. He was a founding member of Oxfam America and a chair of their Board of Directors. He received his MPA and PhD from Harvard University.
Media Expertise
John Thomas welcomes media inquiries on the following subjects:
Additional experts may be found by clicking on each subject listed. You may contact faculty directly or if you need assistance contact the Communications Office at 617-495-1115.